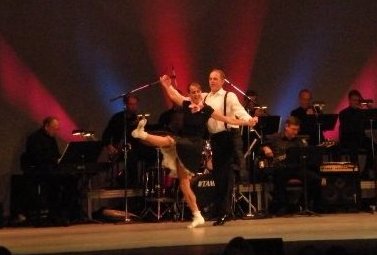 Charity Benefit Dancing with the Stars
Dr. Michael Spreng put on his dancing shoes for the cause as a contestant of the Neos Dance Theatre's Dances with the Stars. The event, held Saturday, September 19, 2009 at the Renaissance Theatre in Mansfield, Ohio, was sponsored by Samaritan Regional Health System. Dr. Mike, dancing with professional Neos dancer Brooke Wesner, competed against four other area "celebrities" to benefit the charities of their choice. His stunning performance of disco, swing and Broadway dances garnered him a second place finish and a $500 contribution to Samaritan Hospital Foundation! A large group of supporters were on hand to cheer Mike on and to support his efforts for SHFoundation, with many offering contributions in support as well. Including Mike's $500 "prize", The Dancing with the Stars event has generated $4,850 in contributions to Samaritan Hospital Foundation!
Dr. Mike many not have been the best dancer on stage that evening but he certainly had the best fans in the audience. It was a fun evening and Mike did a fine job of representing Samaritan Hospital's needs and plans for a new Birthing and Women's Unit. It was suggested, however, that Dr. Mike not give up his day job!
« Back to General News Releases