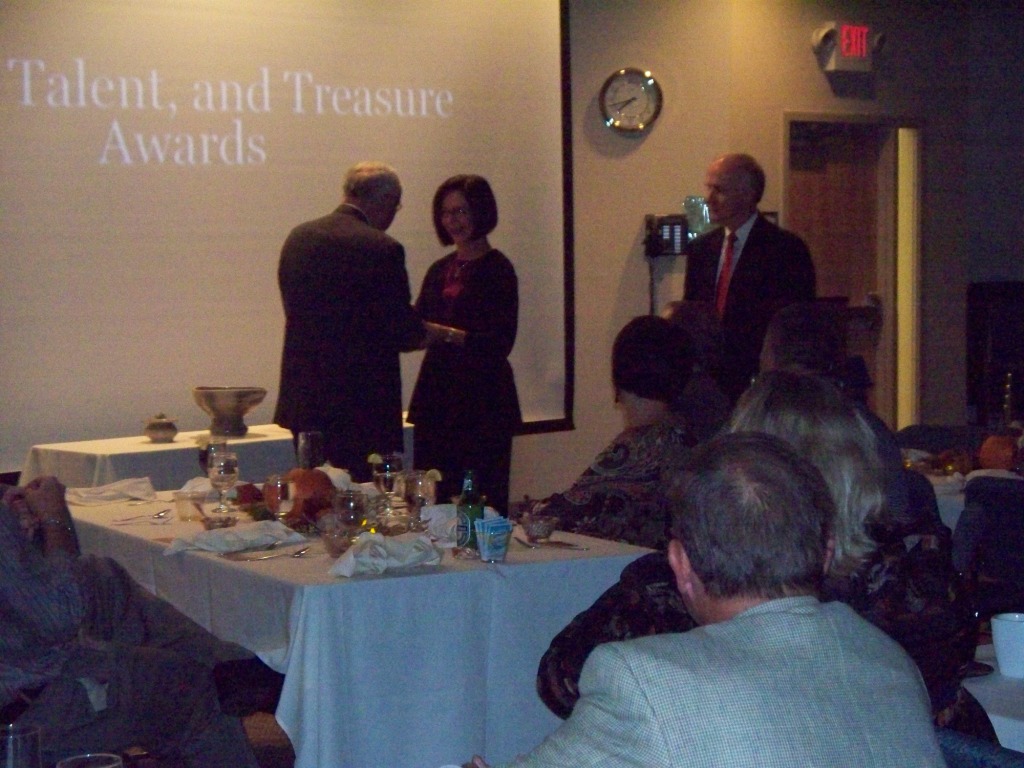 Donors Appreciated by Samaritan Hospital Foundation
| | | |
| --- | --- | --- |
| | | |
| Paul Myers & wife Donna | Jack Myers & son John | Ann Dunn with Bev Spreng |
| | | |
| --- | --- | --- |
| | | |
| Fred Lavender & wife Fran & daughter Kathleen | Dr. Andrew Stein & wife Jenny | Dr. John Peck |
Nearly 60 individual and corporate donors were recognized for their contributions to the Samaritan Hospital Foundation at "The Heart of Giving" Appreciation Dinner at Samaritan on East Main on October 28, 2009.

Bev Spreng welcomed the guests and thanked them for choosing to support quality health care during this time of economic uncertainty and ever-growing need in our community. Following dinner (which was prepared by Samaritan Hospital's Chef Sue DeLosh and provided by an anonymous donation in honor of all donors), Executive Director of Samaritan Hospital Foundation, Richard Beal, addressed the group, stating the importance of recognizing the "dedication, leadership, and generosity demonstrated by members of this community who believe in the Mission, Vision and Values of Samaritan". Mr. Beal offered assurance to the attendees stating that "Despite the bad earnings statements you may have received from your other investments, those who contributed to our new projects have made a wise investment decision. Your investment will pay strong dividends not only to you, but to your children, and grandchildren, and future generations of Ashland residents not yet born." Stories were shared from both the Emergency Department and the Birthing and Women's Unit, demonstrating how Samaritan Hospital has recently touched the lives of those in need. Danny Boggs, CEO of Samaritan Regional Health System, shared "three other important dividends that should reach maturity over the coming years" when he briefed the group on future projects being considered for Samaritan Hospital and expressed appreciation for the generous support received from donors. Paul Myers, Board Chair of Samaritan Hospital Foundation, flew in from Florida to attend the event and offered his thanks to all that contributed to Samaritan Hospital Foundation, to keep health care in his hometown strong and ready to serve those in need of care in communities served by SRHS.

Four special awards created by the Samaritan Hospital Foundation were presented. Video photo presentations were created for each individual recipient and commemorative ceramic bowls and crocks were created for each recipient by local artist Deb Akers, who was present at the event. The Time, Talent and Treasure Awards were bestowed upon Ann Dunn, Fred Lavender, Dr. Andrew Stein and Dr. John Peck for their commitment to quality health care in our community and support of Samaritan Hospital Foundation.

The "Heart of Giving" Award is presented to honor not only philanthropy to SRHS but to the local community and beyond. This year's "Heart of Giving" Award was presented to the Jack and June Myers family who, for decades, has demonstrated a "heart for the Ashland community". Both Jack Myers and Paul Myers, sons of Jack and June Myers, were on hand to receive the award. In her presentation of the award, Spreng commented that "The level of community commitment demonstrated by Jack and June Myers is very rare, and is reflected in the lives of both of their sons. Samaritan Hospital Foundation deeply appreciates the contributions that you and your family have made to the Ashland community and we are thankful that you are both able to be here today to accept the first ever "Heart of Giving" Award in honor of the Myers family".

Special thanks were conveyed to musicians Randall Miller and Rae Yeager who played for the event, artist Deb Akers for creating the recognition pieces and SHF Board Member, Debby Gray for her assistance with the decorations.

This was the first "Heart of Giving" Appreciation Dinner hosted by the Samaritan Hospital Foundation. For more information about the Foundation or donor opportunities available, contact Bev Spreng at 419-207-7861.


« Back to General News Releases