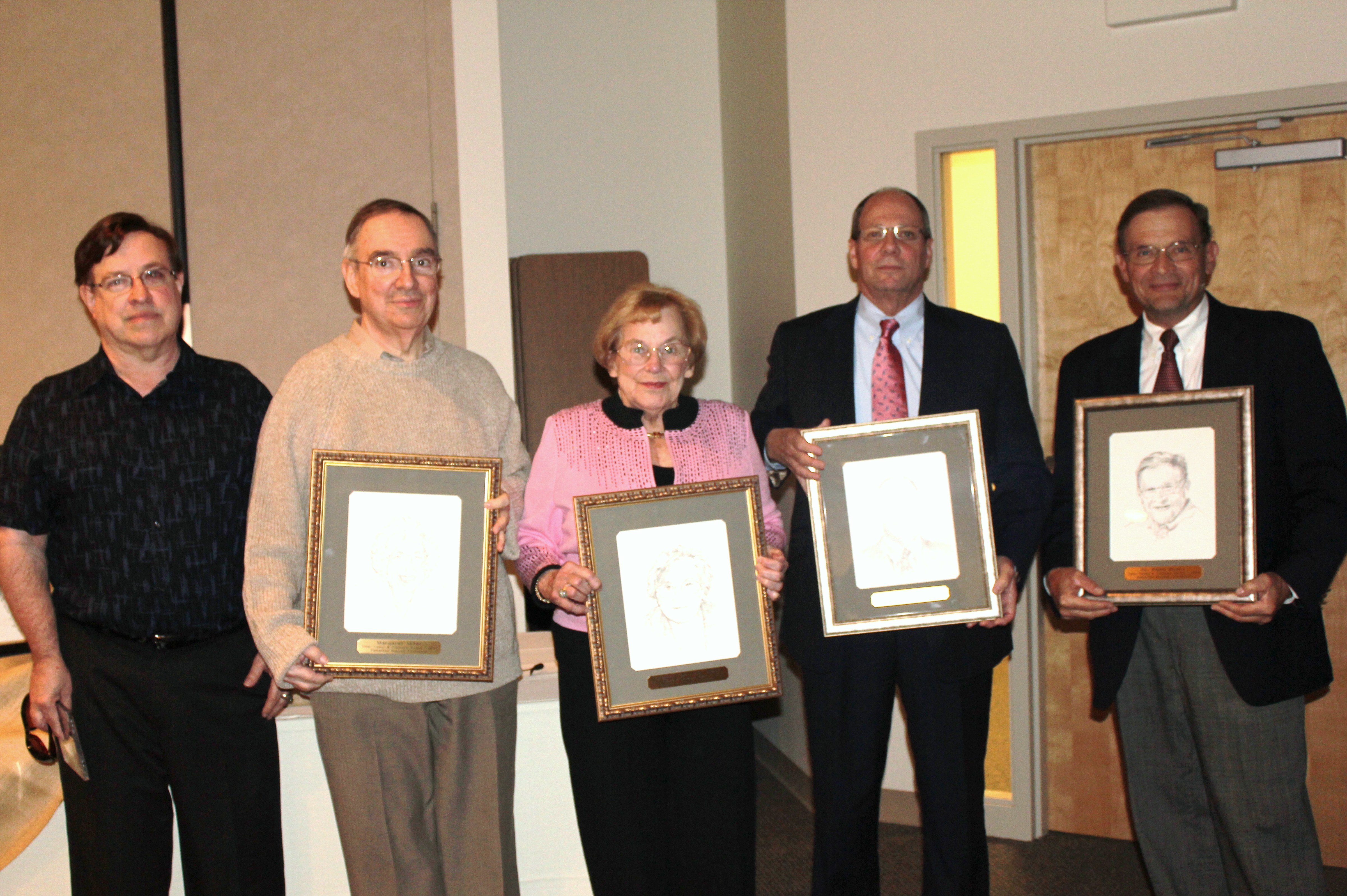 Samaritan Hospital Foundation pays tribute to its Donors
Samaritan Hospital Foundation pays tribute to its Donors
Individual and corporate donors were recognized and thanked for their contributions to the Samaritan Hospital Foundation at the Heart of Giving Appreciation Dinner held at Samaritan on East Main on October 27, 2010, hosted by Samaritan Hospital Foundation (SHF). Beverly Spreng, Development Director for SHF, commented that Samaritan Hospital counts on support from the Ashland community to stay strong and prepared to offer the best care possible, just as our community counts on Samaritan Hospital to provide quality care, when care is needed.
Four individuals were selected for special recognition. Honorees received framed portraits, sketched by local artist, Carl Alessandro. The recipient of the Heart of Giving Award also received a commemorative, heart-shaped, pottery bowl created and donated y local artist, Deb Akers.
The Time, Talent and Treasure Awards honor three special individuals who have given heartily of their Time, Talent and/or Treasure!
Margaret Miller, co-owner of the King Lanes property, generously donated the Miller family's portion of the property to Samaritan Hospital Foundation shortly before her death on March 10, 2010. Margaret and her husband, William (who preceded her in death), were recognized for their generous gift and long history of service to the Ashland community.
Virginia (Shamie) Budd was recognized for her friendship and devotion to Samaritan Hospital, a commitment she shared with her late husband, Richard Budd. Mr. and Mrs. Budd were instrumental in implementing the Samaritans Annual Giving Club in 1983 and Mrs. Budd remains an active, contributing member still today. Her faithful giving to Samaritan Hospital Foundation has made a difference at Samaritan Hospital and her caring has touched the lives of many.
Dr. Philip Myers was awarded the Time, Talent and Treasure Award for his years of dedicated service to Samaritan Regional Health System (SRHS), his patients and the Ashland County Community and his faithful and generous support of Samaritan Hospital. Dr. Myers began his surgical practice with Dr. William Emery. After 22 years of surgery, Dr. Myers accepted the position of Medical Director/VP of Medical Affairs at Samaritan Regional Health System.
The Heart of Giving Award is presented to honor not only philanthropy to Samaritan Regional Health System, but to the local community as well. The 2010 recipient of the Heart of Giving Award is Jack Vanosdall. Jack was born and raised in Ashland and has lived here most of his life. He is committed to this community and understands that, for a community to remain strong, we must take care of all aspects of that community. That awareness is the essence of the Heart of Giving Award. Jack Vanosdall has been a dedicated community servant, on many fronts, giving back to the community that he loves. His service includes nine years on the Samaritan Hospital Foundation's Board of Directors, and his efforts have helped to keep Samaritan Hospital strong and ready to provide the best care possible to patients.
Special thanks were conveyed to musicians Jim Messner and Dan Fleming who played for the event.
For more information about the Foundation or donor opportunities available, contact Bev Spreng at 419-207-7861.
« Back to General News Releases