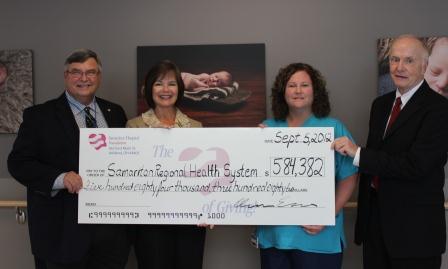 Samaritan Regional Health System Community and Employee Gifts
September 5, 2012 - Samaritan Hospital Foundation presents Funds to Samaritan Regional Health System from Community and Employee Gifts
Samaritan Hospital Foundation President, Richard Beal, presented Danny Boggs, President/CEO of Samaritan Regional Health System with a check for $584,382 to help pay for the recently completed Birthing and Women's Unit at Samaritan Hospital. The funds were a portion of the money raised through a community and employee campaign to support the renovation and expansion of Samaritan Hospital's Emergency Department and the 4th floor Birthing and Women's Unit.
The completed Birthing and Women's Unit was open for public tours on September 6, 2012. Plans are being discussed for the upcoming renovation of the Med/Surg/Peds and Intensive Care units at Samaritan Hospital.
Melissa Winfield, Director of the Birthing and Women's Unit and Beverly Spreng, Development Director for Samaritan Hospital Foundation, were also present at the presentation which took place in the Birthing and Women's Unit on September 5th.
Samaritan Hospital Foundation's mission is to generate the funding and support necessary to enable Samaritan Regional Health System to continue to provide health and wellness services that foster hope, healing and comfort to the communities it serves.
« Back to General News Releases