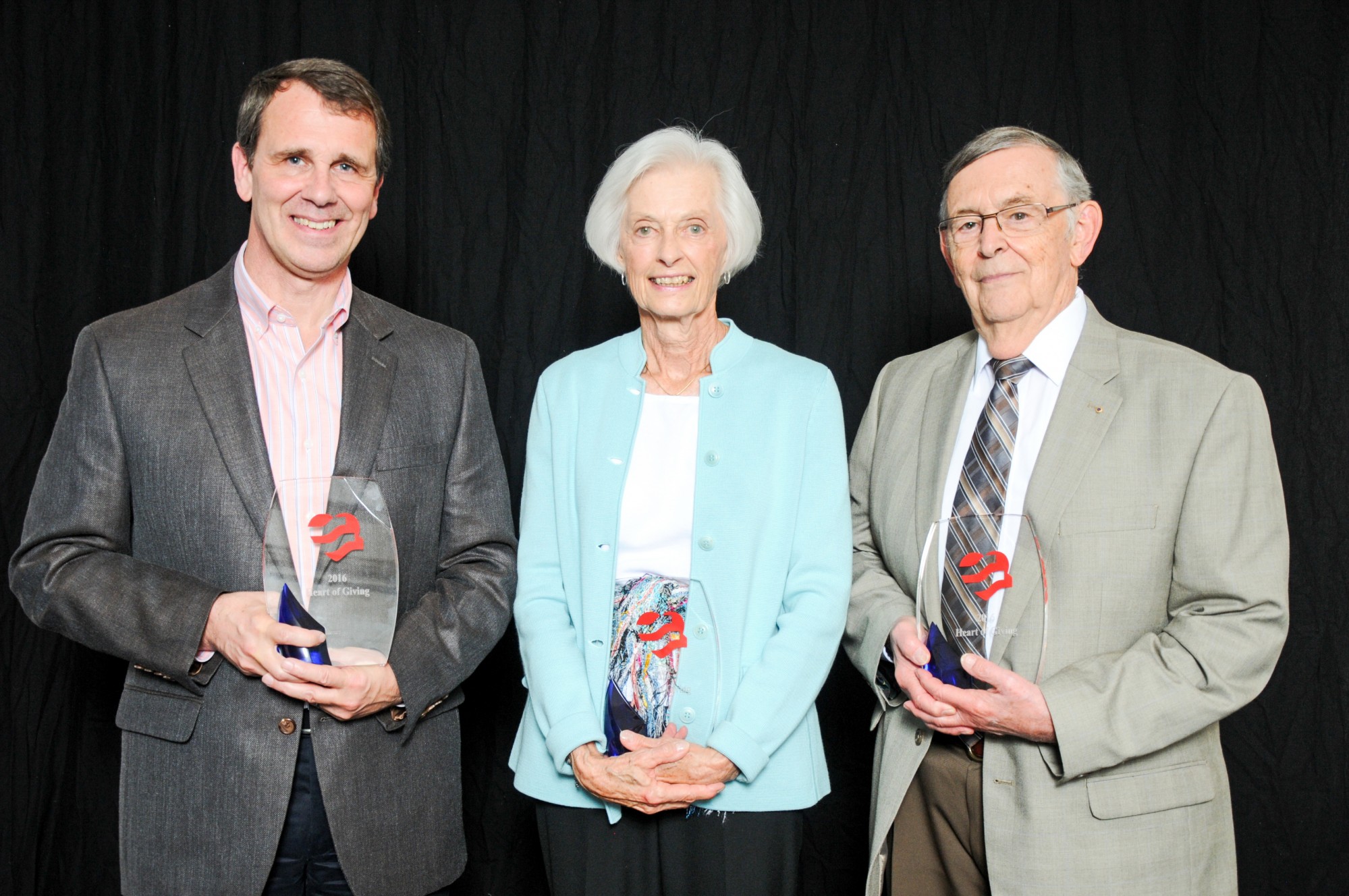 2016 Heart of Giving Awards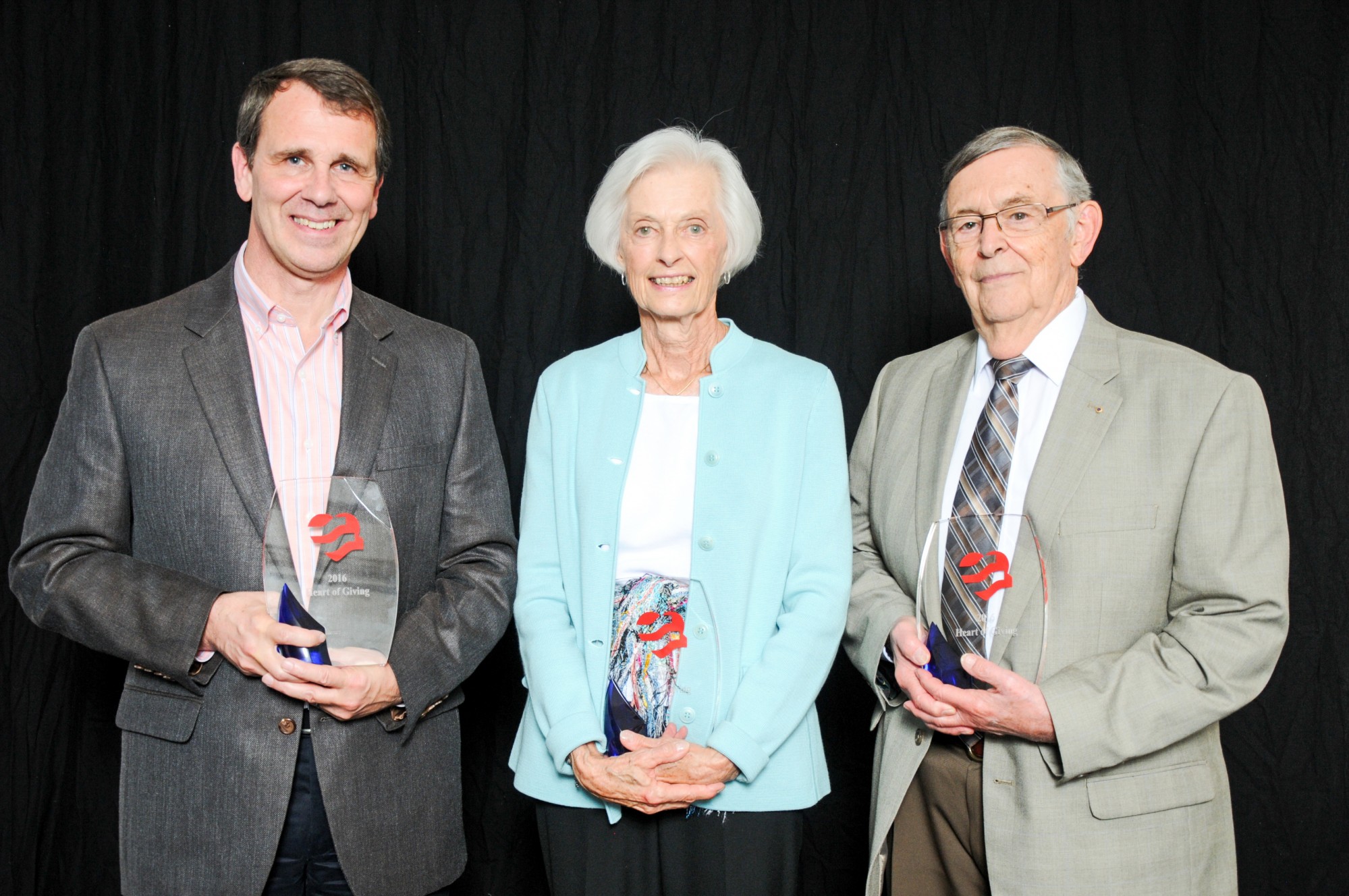 2016 Award Winners pictured left to right: Dr. Roger Snyder, Pat Byerly, and Richard Obrecht
More than 170 gathered for Samaritan Hospital Foundation's annual Heart of Giving Donor Appreciation Dinner that took place Oct. 6 at Samaritan on Main. The event is an opportunity to thank individuals in our community who give so generously of their time, talent, treasure and service to make a difference in Ashland County.
Bev Spreng, Master of Ceremony and SHF board member, Richard Beal, President of SHF; Jerry Seiter, Development Director of SHF; and Mona Campbell, Programs and Community Relations Director of SHF presented video updates on SHF-sponsored projects, including helping Associated Charities with purchasing their new building and contributions to the Fostering Family Ministries to support the creation of a new website to help increase the number of foster families in the area. Ashland County has approximately 96 children in the foster care system and only 11 foster families in the county, which means our children are not only taken from their families but removed from their schools and friends and placed in another county. SHF funds were also used to purchase an EECP Therapy bed for the hospital's Cath Lab to provide life changing outpatient treatment for angina and heart failure patients. The Ashland Care Center received funds toward the purchase of an ultrasound and printer, enabling mothers to see their babies in the womb. In addition, SHF along with University Hospitals purchased seven Lucas 2 Chest Compression Systems for the Ashland county districts totaling $95,000 in funding.
Danny Boggs, retiring president of University Hospitals Samaritan Medical Center, was recognized for his 13 years of service to the organization. In his honor, SHF purchased an $85,000 EECP machine for UH Samaritan's Cardiac Cath Lab.
SHF staff also presented a video to pay tribute to local law enforcement in Ashland County who risk their lives on a daily basis protecting our community, including: Deputy Kyle Pidgeon, Ashland County Sheriff's Dept.; Deputy Richard Kinter, Village of Perrysville Deputy; Chief Randy Jackenheimer, Haysville Police Dept.; Officer Ray Scott, Mifflin Police Dept.; Officer Kara Pearce, Loudonville Police Dept.; Ranger Cory Tedrow, Muskingum Watershed Conservancy; Trooper Andrew Topp, State Highway Patrol – Ashland; and Officer Jeremy Jarvis, Ashland City Police Department. Each law enforcement branch was given $1,000 from SHF.
In addition, UH Samaritan Emergency Department nurses Chris Coffy and Heather Flinner presented two digital cameras and a printer to the Ashland City Police Department. The items, which will be used to document visual evidence of crimes, were purchased with donations from UH Samaritan staff, a matching SHF donation, and assistance from WalMart.
Three individuals who work tirelessly to improve the lives of others were honored with the SHF Heart of Giving Award:
Dr. Roger Snyder received the award for a lifetime of caring for others with love and compassion. Over the years, Dr. Snyder has given of his time and talent serving on numerous missions trips to help people in need in the Dominican Republic and Cambodia. He is also one of the founders and a faithful servant at the Ashland Christian Health Center, which opened its doors in 2003 with the mission to holistically care for and elevate the dignity of Ashland County residents who are uninsured or underinsured, in a Christ-centered atmosphere. In Dr. Snyder's honor, SHF donated $5,000 to the Ashland Christian Health Center.
Pat Byerly, who with her husband Ted, provided funeral service in the Loudonville area for 21 years, received a Heart of Giving Award for her many years of service to the Ashland and Loudonville communities. Over the years, she has devoted her time and talent to countless organizations and boards, including serving on the Kettering Hospital Board in Loudonville and more than a decade on the Samaritan Regional Health System Board in Ashland; she was a founding member of the Samaritan Hospital Foundation, serving for 13 years on the board; and is currently serving as a member of the Ashland County Community Foundation Fund Board. A SHF donation of $6,000 to UH Samaritan was made in Pat's honor. The donation will be used to purchase an endoscope cleaning system and ten lead aprons.
Dick Obrecht, retired Registrar Emeritus from Ashland University, was recognized for a lifetime of service to the Ashland community. For 47 years he ran the clock at Ashland High School Football games and 45 years for the AU football team. Dick has also been a faithful volunteer at Samaritan Hospital for the past 16 years, logging more than 8,695 hours providing assistance and a beacon of peace for those walking through the doors at UH Samaritan Medical Center. SHF made an additional donation of $5,600 to UH Samaritan in Dick's honor for the purchase of an endoscope.
« Back to General News Releases