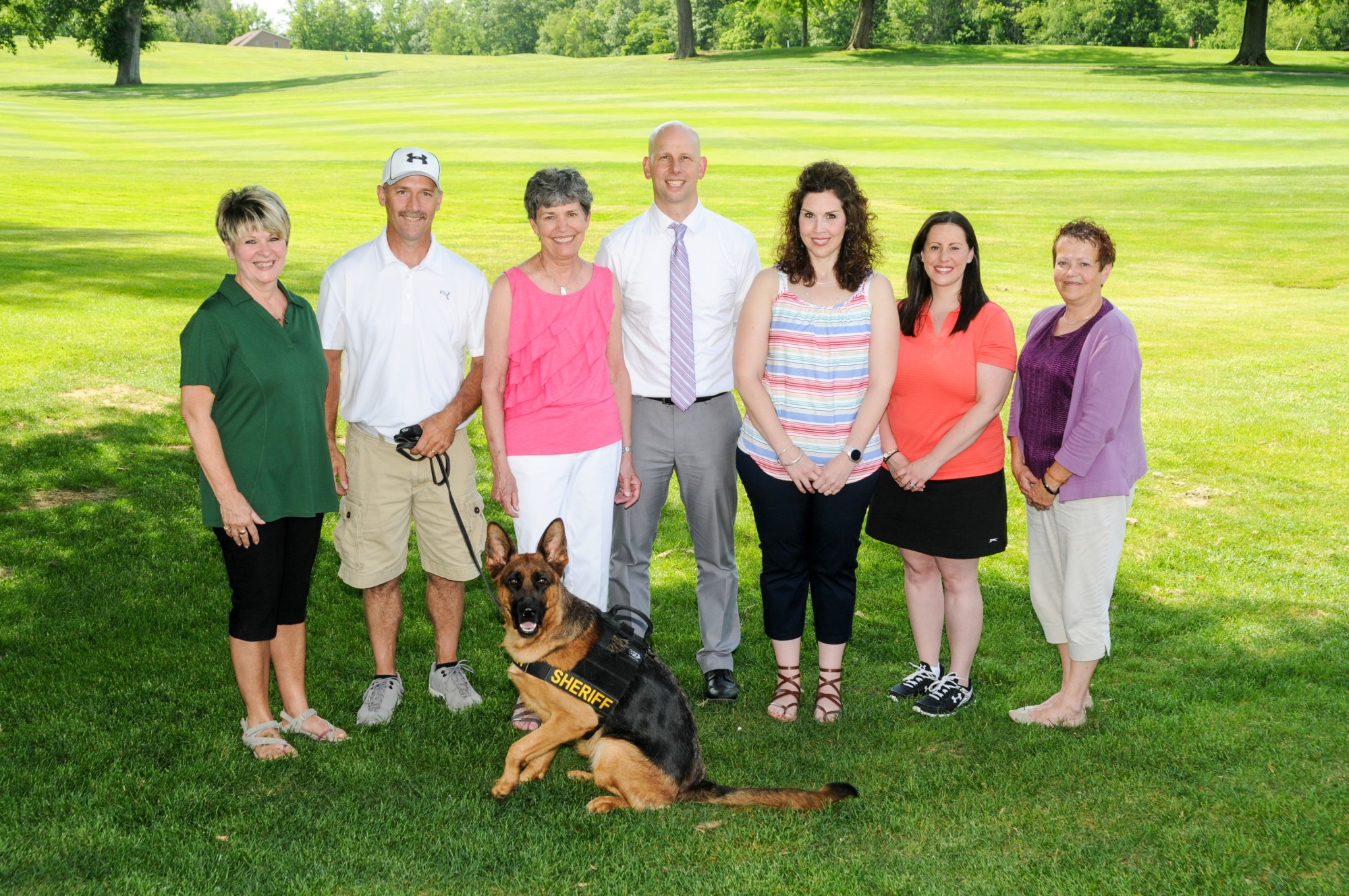 Samaritan Hospital Foundation Charity Golf Classic Raises $41,500 to Support Local Initiatives
Pictured from left to right: Mona Campbell from the Samaritan Hospital Foundation, Corporal Mike Freelon & Kimber from the Ashland County Sheriff's Department, Joyce Hunt from Ashland Christian Health Center, Bryan Finger from UH Samaritan Medical Center, Christine Teevan from Ashland Special Needs Ministy, Kelly Dowling from the Kidney Foundation of Ohio, and Connie Butler from the Ashland County Kidney Center.

Twenty-eight teams battled the heat on June 16 at the Ashland Golf Club playing for a great cause—raising money to support and enhance health, wellness and safety initiatives in Ashland County. Thanks to the generosity of players, local sponsors and matching funds from Samaritan Hospital Foundation (SHF), five very important local programs received much-needed grants.
Corporal Mike Freelon and his new K-9 partner, Kimber, were presented with a $3,500 grant to match the Ashland County Sheriff's Department K-9 Fund of $3,500. The funds enabled the department to purchase Kimber to take over for their current K-9 partner, Ruger. "We can't thank all of you and the Foundation enough. Ruger has been a huge help to our community…he's probably assisted in more than 100 felony cases over the years. He's nine so it's time for him to retire and we couldn't have purchased Kimber without your help," explained Freelon.
Ashland Special Needs Ministry received $6,000 to assist special-needs families in Ashland County with funds to attend a 5-day camp at Joni and Friends Family Retreat where they receive encouragement and care in the comfort of a safe and fully-accessible family camp environment. The Kidney Foundation of Ohio, Inc. received $6,000 to assist patients receiving dialysis in Ashland County with transportation, medication assistance and emergency grants. A grant for $6,000 was presented to the Ashland Christian Health Center to help care for Ashland County residents who are uninsured or under-insured in a Christ-centered atmosphere.
University Hospitals Samaritan Medical Center Rehab Department received $20,000 for the purchase of Real Eyes Binocular Video Goggles to help diagnose a type of vertigo caused by a blow to the head and a Stryker Cordless Driver 4 tool used in sports medicine and orthopedic trauma. Bryan Finger, Director of Clinical Services, graciously accepted the grant and summed up the importance of the event, "By all of you being here today, you give us an opportunity at the hospital to help people in our community. With this equipment, we can treat people right here in Ashland."
The SHF Charity Golf Classic winners for Flight A included first place team sponsored by Barefoot Floors, Tim Baum, Jeff Ream, Dan Rowe and Jeff Cherry; in second place was the team sponsored by Ashland ENT, Allergy & Hearing Aid Center, Andy Stein, Chad Honaker, Dan Denbow, and Scott Green; and coming in third was the team of Danny Boggs, Ev Devaul, Kip Matteson and Steve Paramore. The top three finishes in Flight B included the first place Shakley Mechanical team of W. Dave Brown, Ralph Raminski, Greg Cobb and Kyle Cobb; the Guenther Mechanical, Inc. team of Garth Reece, Kelly White, Mike Siwek and Derek Galco came in second; and the DesignGroup team of Tom Gerken, Craig Norsted, Ralph Kelsey and Bryan Hall came in third.
Major sponsors of the event were Simonson Construction Services, Inc., Cowen Truck Line, Inc., RBC, Inc., PCA, Lutheran Village Assisted Living and an anonymous donation.
« Back to General News Releases