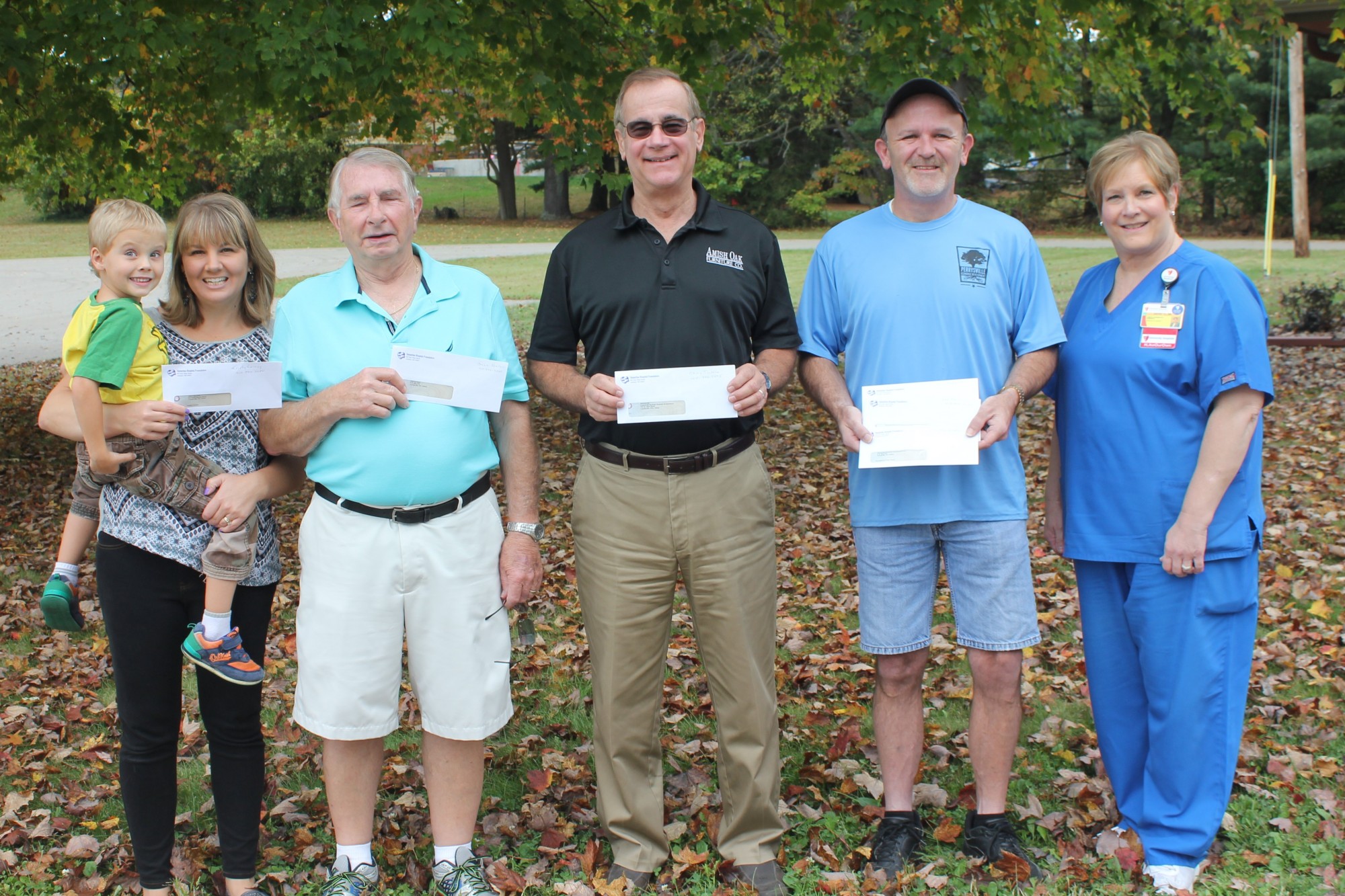 Samaritan Hospital Foundation Awards $10,000 to Loudonville-Perrysville Local Charities
Pictured from left to right: Warren Spreng & Christy Spreng for Olive Tree After School Care, Gene Heller for Helping Hands, Chris Tuttle for Mohican 5K, Joe Eggerton for Perrysville Economic Development and Perrysville Youth Association, and Cathy Conrad for the Loudonville-Perrysville Grant Committee
Samaritan Hospital Foundation awarded $10,000 in grants to the Loudonville-Perrysville area. These grants were distributed to programs in the area to promote health and wellness initiatives for the residents. Cathy Conrad RN BSN, Clinical Coordinator for University Hospitals Samaritan Medical Center in Loudonville, on behalf of the grant committee, distributed to the following charities:
Joe Eggerton, president of the Perrysville Economic Development Inc. received a check for $3,500 to be used for the Weltmer Park Recreational Trails Project. The Perrysville Economic Development is currently implementing recreational trails/hiking paths for the public. These trails will be paved and include 3 walking bridges and will run along the majestic "Blackfork River".
Mr. Eggerton, Perrysville Economic Development Inc. on behalf of Village of Perrysville, also received a check for $2,500 for the upgrade of the Perrysville Community Recreational Courts. This upgrade would include new basketball hoops and backboards, and resurface the courts, reline and seal pavement for the safety of the public.
Gene Heller, on behalf of the Helping Hand, received $2,000 that helps supply emergency support, food pantry, rent, utilities, shoes and a limited amount for prescription drugs for those in need in the Loudonville-Perrysville school district.
Chris Tuttle, received a check for $1,000 to help sponsor the Mohican 5K-Loudonville Mohican Chamber of Commerce. Funds raised will go towards the maintenance & improvement of the Loudonville-Mohican Bike Path.
Kristy Spreng, on behalf of the Olive Tree Care, a non-profit organization in Loudonville, received $500 to help purchase healthy snacks for children. The Olive Tree Care provides an after-school program for those who need quality child care from Kindergarten through 6th grade.
Joe Eggerton, on behalf of Mel Eggerton, Secretary/Treasurer for the Perrysville Youth Association, received a check for $500 to assist in PYA Health & Fitness Day Camp. This fitness day camp provides techniques on stretching, running, pitching and healthy eating habits for Perrysville youths.
The Samaritan Hospital Foundation awards grants to the Ashland County community for health and wellness initiatives. Applications can be obtained by calling the Samaritan Hospital Foundation at 419-207-7861 or e-mailing to mcampbell@samaritanhospitalfoundation.org.
« Back to General News Releases