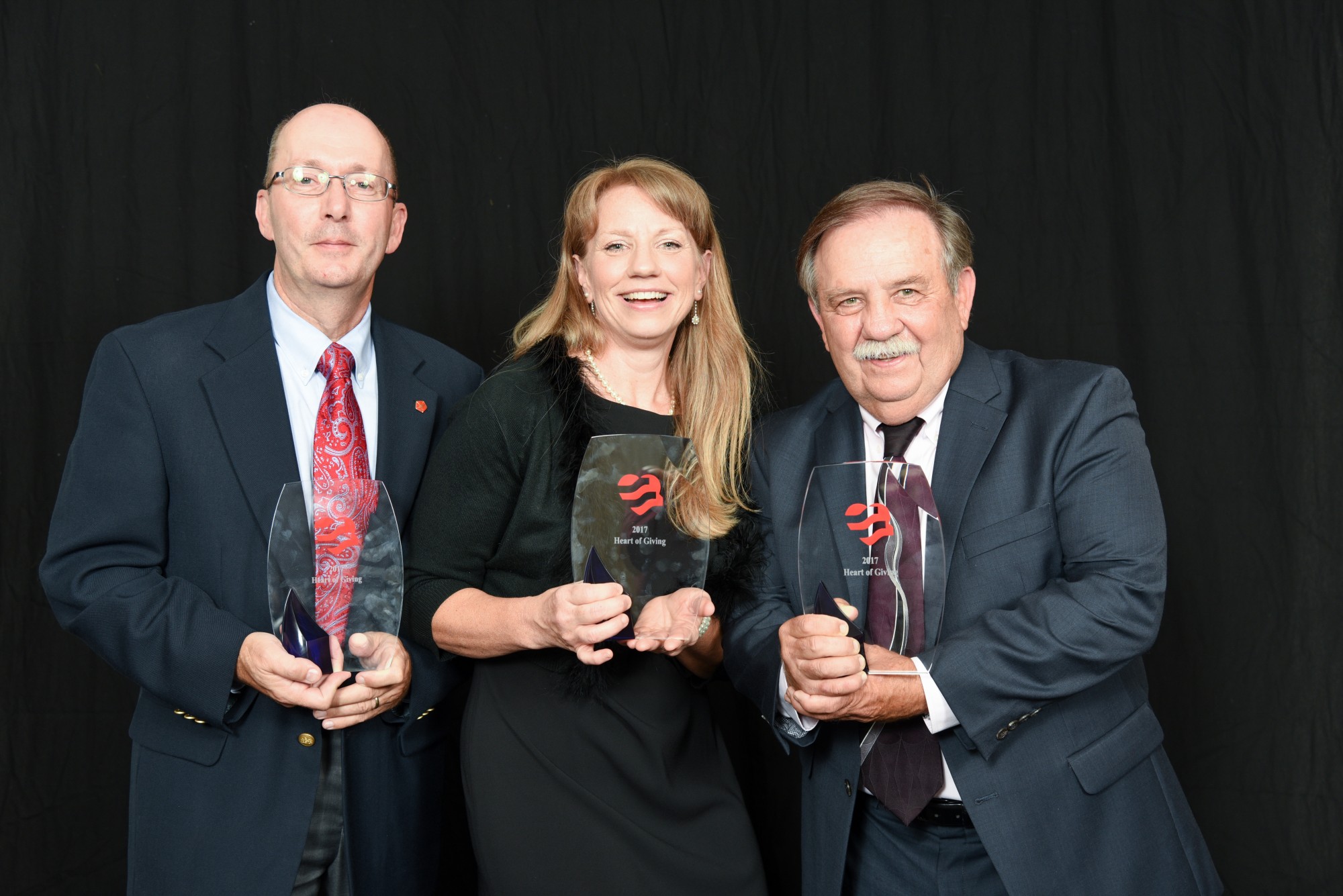 2017 Heart of Giving Awards
Pictured left to right: Mark Burgess, Chris Coffy, and Bob DeSanto

A crowd of nearly 175 gathered for Samaritan Hospital Foundation's (SHF) annual Heart of Giving Dinner that took place Oct. 5. The evening is dedicated to thanking individuals in our community who give generously of their time, talent, treasure and service to help others.
Bev Spreng, SHF board member, served as Master of Ceremony for the evening. The event began by honoring UH Samaritan Medical Center volunteers, Ferne Snook and the late Jean Griffith, for their 60 years of service, and Sharon Strickling from Ashland Christian Health Center for her service as a Free Clinic Nurse Volunteer. SHF also recognized recent SHF scholarship recipients, Emily Harvey and Rachel Willis.
The evening continued with a series of videos highlighting how SHF donors and grants are positively impacting the health and wellness of individuals in Ashland County. A few highlights include: Donor funds along with SHF grants are providing new equipment purchases for UH Samaritan Medical Center and the addition of urgent care services to the Kettering Medical Center, enabling patients to receive state-of-the-art treatment closer to home. And thanks to a generous gift of land from UH Samaritan along with a grant from SHF to purchase a new fire truck, Ashland Fire Department is adding a new fire station and EMS squad to serve the city's growing south side and surrounding townships.
A special tribute was given to fire fighters and EMS personnel in honor of their service to the communities they serve, and in memory of retired Hayesville firefighter, Daryl Stoner. Individuals representing all Ashland County fire departments were recognized and received a check from the Foundation for the purchase of health and safety equipment.
The Heart of Giving Awards portion of the event, presented by Paul Myers, Chair of SHF board, recognized three individuals in our community for their faithful service to make a difference in the lives of others:
Mark Burgess, retired Ashland Fire Department Chief and current Human Resources Director for the City of Ashland, was recognized for decades of courageously responding to the emergency calls of others in need in our community. Mark's heart of giving also extends to his service through his church, civic organizations and mission trips to third world countries.
Bob DeSanto, Vietnam Veteran, former Ashland County Prosecutor and current Ashland County Park Commissioner, was honored for a lifetime of serving the Ashland community through his passion to help others and love for the outdoors. Bob was instrumental in the formation of the Ashland County Park District, as well as the acquisition of thousands of acres and the establishment of multiple new parks that will benefit generations to come in our community.
SHF also recognized Chris Coffy, Nurse Manager for UH Samaritan's Emergency Department (ED), for her servant's heart to help others. Chris gives back both in her community by putting patients first in the ED and training local nursing students, and across the globe on mission trips to Ethiopia. She is also a passionate advocate for the hearing impaired as the mom of a special needs child, and played a key role in getting tele-translator services set up for the hospital.
« Back to General News Releases