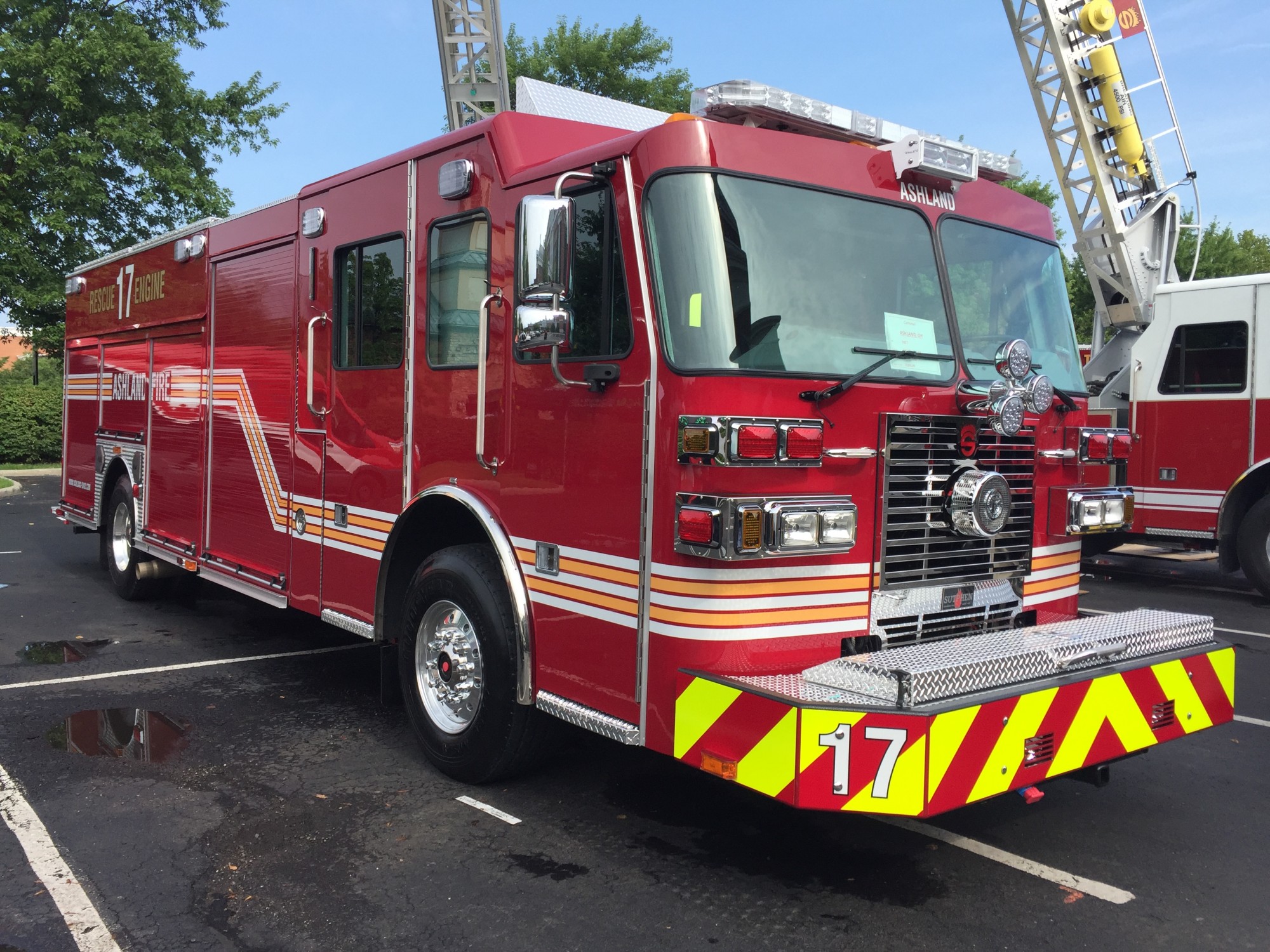 Donations from UH Samaritan and Samaritan Hospital Foundation Pave Way for new Fire Station on City's South Side
Ashland - University Hospitals Samaritan Medical Center donated 4.71 acres of land to the City of Ashland to build a second fire station. The Samaritan Hospital Foundation has pledged a $300,000 donation to purchase a fire truck for the new station.
Located on the corner of Mifflin Avenue and State Route 42, the new fire station will also house an EMS squad to serve the city's south side. The residential neighborhoods and businesses that have grown significantly in this area will be more easily accessible to emergency personnel. Additionally, the ideal location allows for direct access to high traffic areas that include State Route 42, surrounding township roads, and several city school buildings.
"What a wonderful opportunity for the city to expand its Fire and EMS services with the support of University Hospitals and the Samaritan Hospital Foundation," said Fire Chief Rick Anderson. "These generous gifts commensurate the beginning of our mission statement 'To be a Community Leader in Life Safety and Property Preservation…' The endeavor for a second station was part of Chief Burgess' vision while Fire Chief, and it's fantastic to see it one step closer to fruition."
In addition to significantly impacting the response time to emergencies in the city's south side, the new fire station brings services closer to the city's two contractual townships, Milton and Montgomery. Anderson estimates units will reach those in need a minimum of 4 minutes faster with the strategic placement of the additional fire station.
UH Samaritan acquired the land on both sides of Mifflin Avenue in 1998. In 2006, the building at 2212 Mifflin Avenue, home to many physician practices, opened. Fresenius Kidney Care is also located at this site.
The remaining, undeveloped land across the street is considered prime real estate and has garnered interest from at least one retail business. Officials at UH Samaritan have always wanted to utilize the land in the community's best interest and felt the donation of the land to the city would have the most positive impact. The land is valued at $372,000.
"Building a second fire station is a tremendous community benefit," UH Samaritan president Karen McNeil said. "We work closely with fire and EMS personnel and see the outstanding work they do. It's an honor to support them and provide for our community in this way."
Realizing an additional fire truck would be needed to complement the new fire station, the Samaritan Hospital Foundation quickly supported UH Samaritan's efforts to enhance the city's emergency response capabilities by donating the funds to purchase the additional truck.
"Our mission at Samaritan Hospital Foundation is to improve the health and wellness of people in our community," explained Richard L. Beal, president, Samaritan Hospital Foundation. "What better way to keep our community safe than to improve response times for emergency calls and expand Ashland Fire Department's capabilities for serving members of our community."
"A second fire station and a new fire truck for the City will provide additional safety services not only for the residents of the City of Ashland but also for those in the surrounding townships that rely on us," said Mayor Duane Fishpaw. "We have new businesses coming into our area, local businesses expanding, and that means more people. This is a sign of growth. We are committed to meeting the needs of our community and with this kind of support, we will meet those needs. Thank you, University Hospitals and Samaritan Hospital Foundation!"
This is not the first time land has been donated to the City. In 2013, the Samaritan Hospital Foundation gifted their portion of the former King Lanes bowling alley on Claremont Avenue to be repurposed for the Ashland City Schools bus garage and administrative offices.
« Back to General News Releases