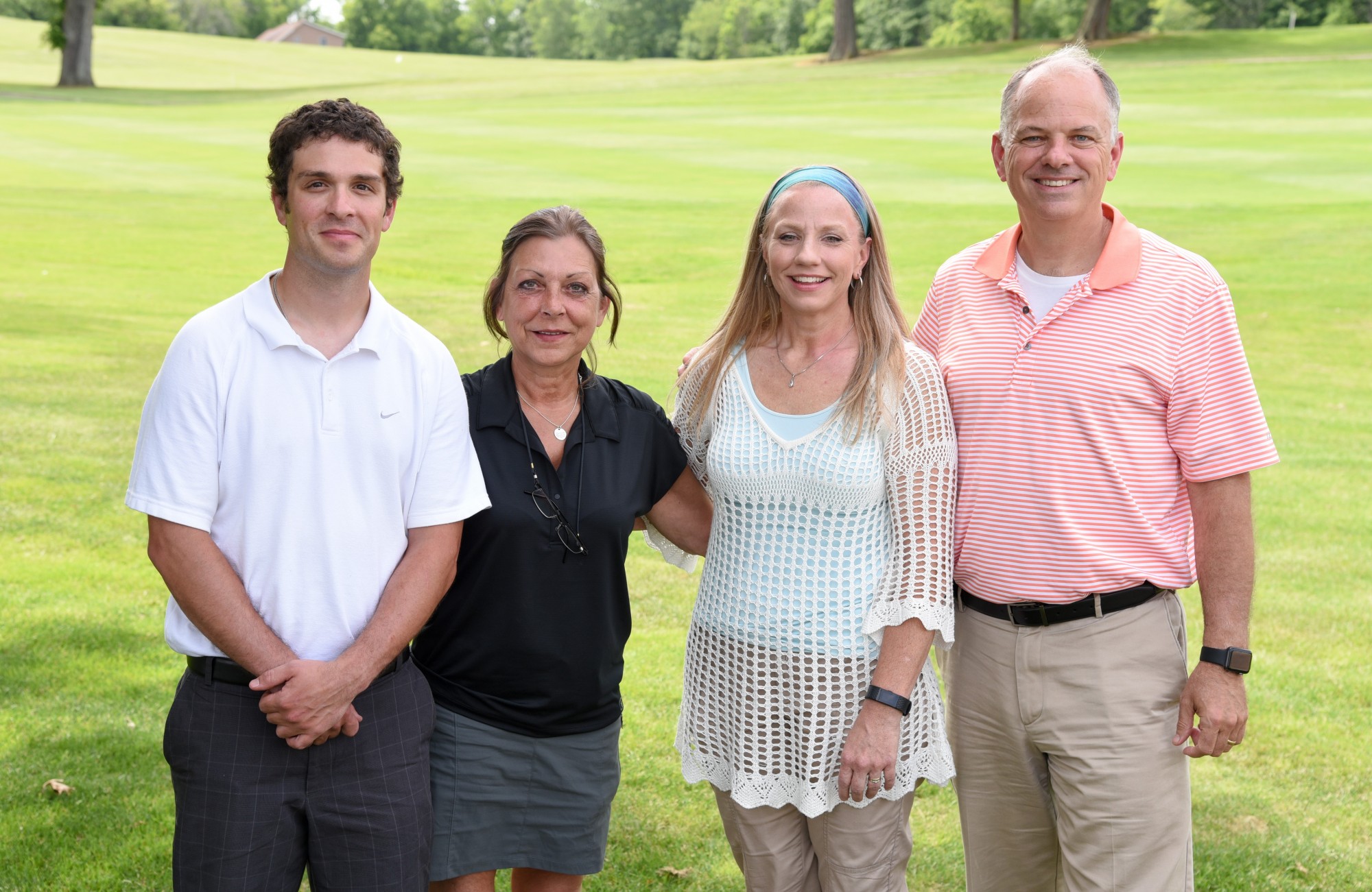 Samaritan Hospital Foundation matches Charity Golf Classic proceeds to generate $38,000 for local initiatives
On June 15 at the Ashland Golf Club, twenty-four teams spent the day competing for a worthy cause—raising money to support health, wellness and safety initiatives in Ashland County. Thanks to the generosity of players, local sponsors and matching funds from Samaritan Hospital Foundation (SHF) and UH Samaritan, local programs received much-needed grants.
Doug Marrah, Ashland City Schools Superintendent, was present to speak about the importance of Stop the Bleed Kits that the Foundation and UH Samaritan are supplying to every classroom in Ashland City Schools and Ashland County Schools. In addition, the Foundation is funding training for teachers and administrators on the proper use of these kits. A portion of the funding was raised through the SHF Charity Golf Classic. Marrah stressed how important these kits are to the district. "School safety is our top priority and we hope we never have to use them. But we have peace of mind knowing that every classroom in the county is equipped with these kits and our staff is trained if there's ever a need." Marrah added, "Dr. Mary MacDonald of UH Samaritan brought this important program to our attention and SHF and UH Samaritan, along with a portion of the funds raised at the golf outing, are funding 100% to provide kits for 770 classrooms in the county and nurse training for teachers and administrators." Anthony Coletta, Ashland Fire Department Captain, shared the life-saving contents of the Stop the Bleed Kits. "The kits include first aid supplies with bandages coated with a special chemical that stops bleeding on contact, as well as manufactured tourniquets. The Stop the Bleed Program gives bystanders on the scene the supplies and training to sustain lives until emergency responders can reach the scene."
University Hospitals Samaritan Medical Center Emergency Department (ED) received $18,000 for the purchase of a life-saving Lifepak 20e defibrillator/monitor and Capnostream 35 portable respiratory monitor. Chris Coffy, Nurse Manager for UH Samaritan ED, graciously accepted the grant and expressed the impact of these much-needed pieces of equipment, "Each year, the ED has more than 60 cardiac arrest patients coming into our department. We use the Lifepak as a tool to monitor patients' heart rhythms, provide necessary electrical shocks, and monitor CPR effectiveness. The Lifepak also stabilizes and monitors patients who come in with other life threatening cardiac rhythms." The Capnostream 35 portable respiratory monitor delivers continuous monitoring of etCO2, respiration rate and SPO2 in virtually any clinical setting.
The SHF Charity Golf Classic winners for Flight A included first place team sponsored by The Good Shepherd, Joe Abraham, Jerry White, Ev DeVaul and Steve Paramore; in second place was the team sponsored by Ashland ENT, Allergy & Hearing Aid Center, Andy Stein, Chad Honaker, Dan Denbow and Scott Green; and coming in third was the Barefoot Floors team of Tim Baum, Jeff Ream, Jeff Cherry and Dan Rowe. The top three finishes in Flight B included the first place Shakley Mechanical team of Kevin Berry, Chris Klein, Greg Cobb and Kyle Cobb; the M&G Strategic Partners team of Kip Matteson, Rich Dyer, Dave Shealey and Chris Burdon came in second; and the Guenther Mechanical, Inc. team of Garth Reece, Kelly White, Mike Siwek and Derek Galco came in third.
Major sponsors of the event were Simonson Construction Services, Inc., Cowen Truck Line, Inc., Silvercrest Asset Management, Packaging Corporation of America, RBC, Inc., and an anonymous donor.
Pictured from left to right: Anthony Coletta – Ashland Fire Department EMT Captain, Dr. Mary MacDonald – UH Samaritan, Christina Coffy – Nurse Manager UH Samaritan ED, and Douglas Marrah – Superintendent Ashland City Schools
« Back to General News Releases