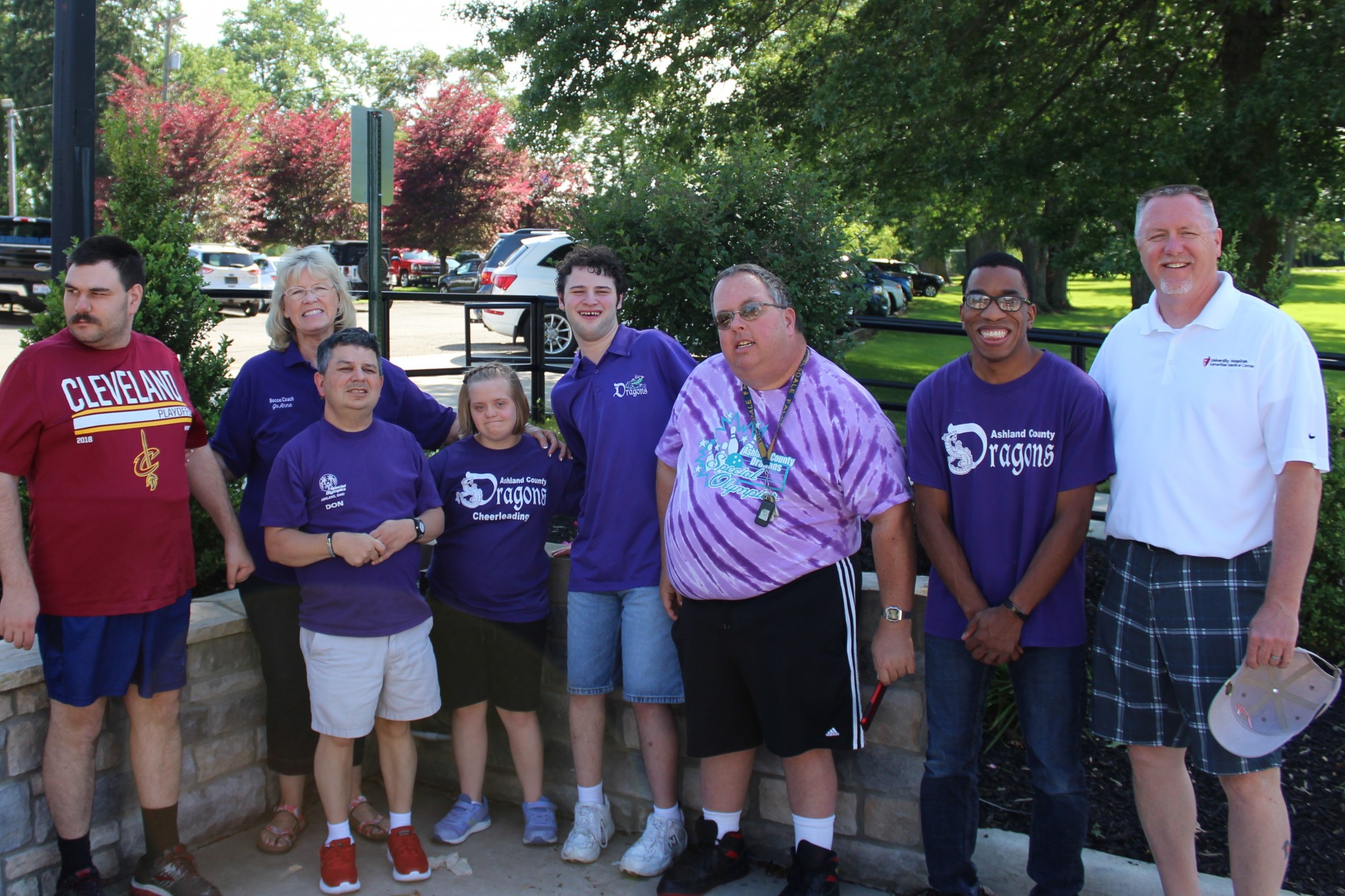 Charity Golf Classic proceeds matched by Samaritan Hospital Foundation generate $40,000 for community health and wellness
On June 21 at the Ashland Golf Club, twenty-two teams spent the day competing for a worthy cause—raising money to support health and wellness initiatives in Ashland County. Thanks to the generosity of players, local sponsors and matching funds from Samaritan Hospital Foundation (SHF), local programs received much-needed grants.
UHSMC President, Todd Harford, was present to thank the group for the incredible community support that made a $21,500 grant possible to fund Telehealth for the hospital. "We had a need for pulmonary services at Samaritan. Through this grant, we now have access to physician experts within the UH network to conduct assessments of patients using high-end videoconferencing through Telehealth."
Ashland County Special Olympics received $10,000 to help support programs for children and adults with intellectual disabilities. JoAnn Webber, Director of Ashland County Special Olympics, and several athletes were on hand to thank everyone for their support. JoAnn shared, "Since 2015, the number of local athletes participating in Specialty Olympics has grown from 58 to 120 thanks to support from SHF and our community."
Proceeds from the golf outing matched by SHF will also benefit the Ashland County community by funding $8,000 for the services of a nationally-renowned trainer, Teepa Snow, for dementia/Alzheimer's patients. Teepa will be training various community groups including nurses, doctors, nursing home staff, EMTs and Fire,
The SHF Charity Golf Classic winners for Flight A included first place team sponsored by Ashland ENT, Allergy & Hearing Aid Center, Andy Stein, Chad Honaker, Dan Denbow and Scott Green; in second place was the team sponsored by Lake Erie Frozen Foods, Mike Buckingham, Paul Myers, Jeff Leonard and Jim Messner; and coming in third was the LLS The Good Shepherd Skilled Nursing and Rehabilitation Center team of Joe Abraham, Jerry White, Ev DeVaul and Steve Paramore. The top three finishes in Flight B included the first place Strong Electric, Inc. team of Sam Long, Ron Streng, Larry Seidner and Bob Flowers; the Shakley Mechanical team of Dave Brown, Kevin Berry and Greg Cobb came in second; and the Sutton Bank team of Dennis Miller, Dr. Kevin Priest, Jack Vanosdoll and Ralph Kelsay came in third.
Major sponsors of the event were Simonson Construction Services, Inc., University Hospitals, Cowen Truck Line, Inc., Silvercrest Asset Management, Packaging Corporation of America, and an anonymous donor.
Pictured from left to right: Altheles: Corey Simon, JoAnne Weber (Director of Ashland County Special Olympics), Donnie Thomas, Keely Loy, Logan Zehner, Doug Shenberger, Jordan Brown and Todd Harford (President of University Hospitals Samaritan Medical Center)
« Back to General News Releases