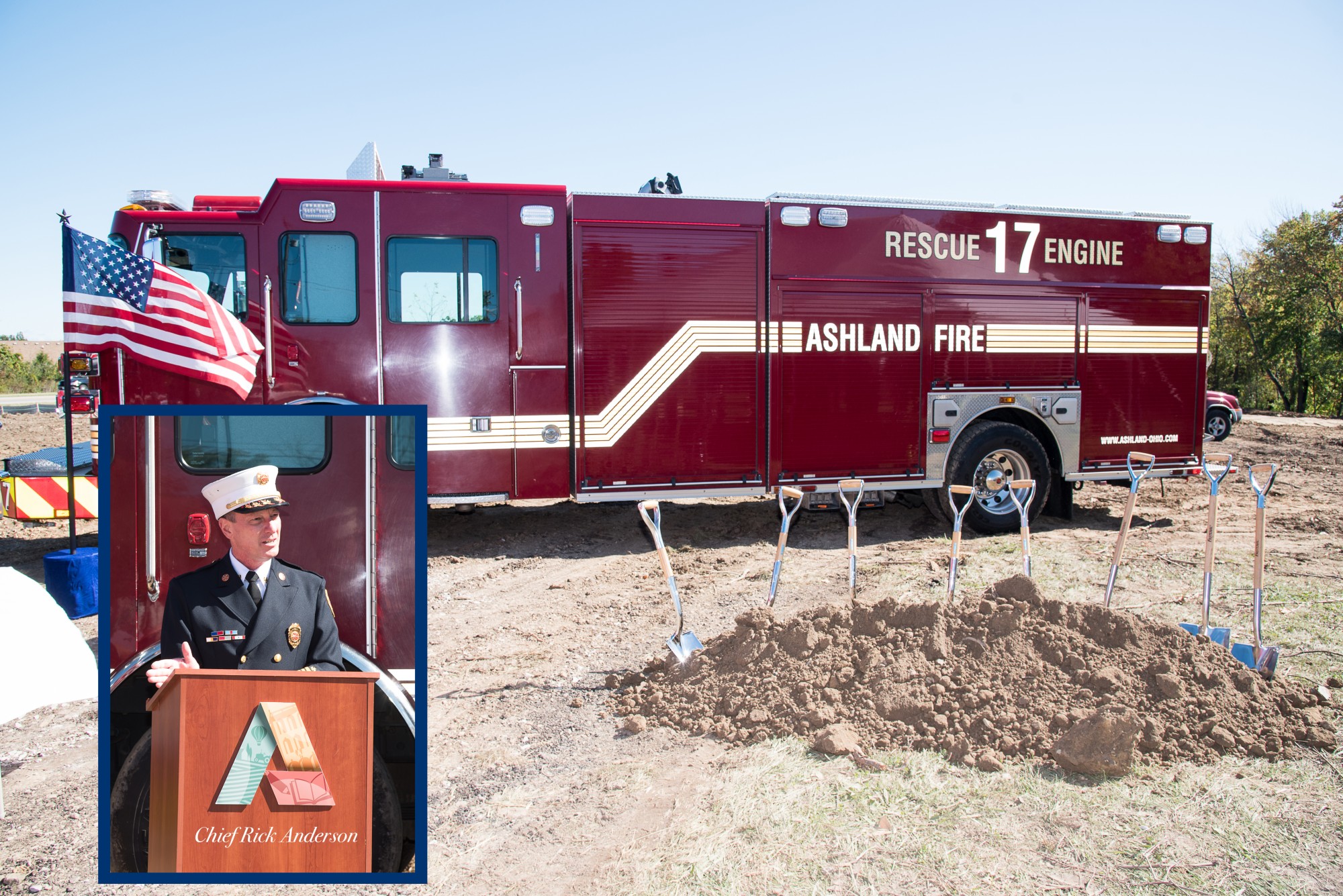 Ashland City Fire Department Celebrates Groundbreaking for Second Fire Station
October 2, 2020, Ashland public officials, alongside representatives from the Ashland City Fire Department, Samaritan Hospital Foundation and UH Samaritan Medical Center broke ground on the city's second fire station. The 4.71 acres where the new station is being constructed on the south end of town were donated to the City of Ashland by UH Samaritan Medical Center. Additionally, a pledge of $300,000 by Samaritan Hospital Foundation will equip the new station with a fire truck. The fire station is expected to start serving the community by June 2021.
"As we break ground today on Ashland Fire Division Station #2, this is the biggest thing to happen to the Ashland City Fire Department in more than forty years," said Mayor Matt Miller.  "It's much needed and it's going to benefit a lot of citizens not just in Ashland City, but the surrounding area."
"There is a purpose for this station sitting on this corner of Mifflin (Avenue) and (Route) 42," Miller said. "Most of the residential growth that has occurred in this great city over the last decade or more has happened on the south side of the city. This location will dramatically improve the response times for this entire section what, quite-frankly, you could call our county."
"We strive to fund organizations that have a proven record of providing quality service to our community," said Dick Beal, President of the Samaritan Hospital Foundation. "Without a doubt, this group that is here today accomplishes that. This new fire station, like it's already been said, will save lives."
Fire Chief Rick Anderson said that this new fire station spoke on the importance of this project. "We've waited a long time," Anderson said. "It's not just dividing up the crew, it's not just getting these guys in two different places; it's being able to serve the community much quicker, much more efficient.
"With this station here, anything from the Fairgrounds west—we're taking three to four minutes off of that response time. That's huge."
Firefighter Matt Spaniel expressed the importance of those few minutes. "Three to four minutes might not sound like much, but when it comes to an emergency situation, it could be the difference between life or death," Spaniel said.
Todd Harford, President of University Hospitals Samaritan Medical Center also took a moment to acknowledge Ashland's fire department. "On behalf of all the health care providers at University Hospitals Samaritan Medical Center, we are honored to be a part of this project to give Chief Anderson and his extraordinary team the ability to respond quickly to any emergency needs whether it be medical or fire," Harford said. "We are happy to be able to support the community and, as the mayor says, 'Keep Ashland on the rise."
(Waylon O'Donnell, "Ashland Fire Division makes history with 2nd station groundbreaking")
« Back to General News Releases